Education Centre

Thank you for visiting our Education Centre. Here you'll find information on battery types, the importance of recycling them and frequently asked questions.
Are you interested to understand more about a topic that relates to batteries? Contact us and we'll be happy to look into it for you!
How to Prepare Your Batteries for Recycling
---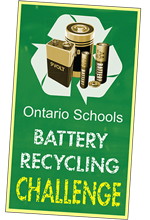 Ontario Schools Battery Recycling Challenge
The Ontario Schools Battery Recycling Challenge is for elementary and secondary schools in the Province of Ontario. There is no cost to participate and there's a chance to win great cash prizes.
Learn more about the Ontario Schools Battery Recycling Challenge.
---
Thank You
We have received your message and we will respond to you shortly.
Contact Us
Please use the form below to contact us today!
* Required Fields
Contact Us
Please use the form to the left, or contact us today at:
Canada: (905) 835-1203
Toll Free: 1-888-WE-REDUCE
Fax: (905) 835-6824
Raw Materials Company Inc.
17 Invertose Drive
Port Colborne, ON L3K 5V5
Canada
We will put you in touch with a representative that will be able to answer all of your questions.
Thank you!
Quick Links
For your convenience, here is a summary of important links related to this page.
Did you know?
Zinc is one of the world's most commonly used metals. Approximately 30% of the zinc today comes from recycled sources. Raw Materials Company is able to recover zinc from the batteries that you recycle. The zinc we recover is then reused as micronutrients in fertilizer to grow corn for biofuel.
As a result of RMC's recycled materials, farmers are able to increase their yields by over 20 bushels per acre. This is important considering our growing population and the need to make efficient use of our existing farmland.
Find out more about our technology and how together we are turning waste into a valuable resource.