How to Prepare Your Batteries for Recycling
Most of the batteries that we use everyday do not require any special preparation before recycling, however we do recommend that precautionary measures be taken when recycling certain types of batteries to reduce any risk of short-circuit.
Rechargeable Batteries
Rechargeable batteries come in all the common sizes like AA, AAA, C, D and 9 volt and you'll find them in many different household devices. They're also used in cellphones, laptops and tools. Carefully inspect rechargeable batteries for damage. Please ensure any exposed terminals or wires are taped or bagged during storage and prior to recycling.
Primary Lithium "Button" Cell Batteries (non-rechargeable)
Special consideration must be taken to ensure all primary lithium "button" cell batteries have their positive terminals taped prior to recycling. We recommend taping both the positive and negative terminals by simply placing a single piece of tape around the top and bottom of the button cell covering both terminal ends.
Button cell batteries are used in many applications such as musical greeting cards, watches and hearing aids.
Other Primary Lithium Cell Batteries (non-rechargeable)
Aside from the various button cell sizes, there are the more common AAA, AA, C, D and 9 Volt varieties. All of these batteries must have their positive terminals taped before recycling.
Sealed Lead Acid Batteries (SLA)
Sealed Lead Acid batteries are commonly used to power emergency lighting systems, UPS power units, remote control cars and vehicles. The sizes of these batteries vary depending on the application and each must have their positive terminals taped before recycling.
6 Volt Batteries
6 Volt batteries are the type used in larger flashlights and lanterns. Although not subject to the Transportation of Dangerous Goods Act, we recommend that the protective caps or masking tape be placed over its terminals prior to being recycled as well.
All 9 Volt (Including Alkaline)
9 Volt batteries are the type usually found in smoke detectors and alarm clocks. Simply place a piece of masking tape over the terminal ends to secure both the positive and negative terminals.
Broken or Damaged Batteries
Carefully place broken and or leaking batteries into a separate baggie or UN approved container with protective gloves and eyewear. Mark the container if it contains broken batteries. Do not bring broken or damaged batteries to RMC's collection sites, please contact RMC to make recycling arrangements.
Securing the Positive Terminals on a Battery
The positive terminal on a battery is marked with a + symbol or may be identified as the red terminal on the Sealed Lead Acid variety.
To properly secure a battery, simply place a piece of masking tape over the positive terminal end so that it may not come into contact with metal or other batteries.
On 6 Volt batteries, place a piece of masking tape around the terminal springs to prevent smaller button cell types from being wedged in-between the terminal.
Reuse the Packaging
Consider reusing the package from the replacement battery to secure the used battery. Simply place the used battery inside the package and if needed, seal the package with a piece of tape.
Things to Avoid
Stacking Button Cell Batteries Prior to Taping
If multiple button cell batteries need to be prepared for recycling, simply use a longer piece of packing tape and place each button cell side by side with the positive terminal against the tape. To ensure that the batteries stay together, place another length of packing tape over the negative terminal ends.
Taping Different Chemistries Together
Every battery that is recycled at RMC is sorted by type and chemistry. Place enough tape to safely cover the positive terminal. Avoid wrapping the entire battery in tape or taping different chemistries together.
Most of us have a place (or several) where we store our used batteries before we make the trip to our local retail recycling location. Below, we've listed some useful suggestions and considerations about storing your used batteries.
Out of Reach
All batteries should be kept safely out of reach of small children. Lithium button cell batteries found in musical birthday cards can be an attractive item for an inquisitive child. This type of battery is known to cause severe burns of the esophagus when swallowed which has in some cases resulted in death.
If you suspect your child has swallowed a battery of any type, you should contact your local emergency services immediately.
Store in a Cool, Dry Area
Store used batteries in a cool and dry area. Batteries should not be stored in extreme heat, near flammable materials or in locations where there is moisture or humidity.
Use a Plastic or Cardboard Container
As an added safety precaution, use a non-conductive storage container such as a plastic pail or cardboard box rather than using a metal coffee can for storage. Do not store batteries with flammable materials or conductive materials like metal, paperclips and staples, etc.
Ensure coin, 9 volt, sealed lead acid and lithium batteries are taped or individually bagged prior to storing.
Secure Positive Terminals
Remember to tape the positive terminal ends on all of the battery types listed above to reduce any risk of short-circuit.
---
Do you live in Ontario, Canada?
If you're a resident of Ontario, you can recycle non-embedded primary and rechargeable batteries weighing less than 5 kilograms for free at many stores and municipal facilities across the Province. Simply type your postal code or city name into our search tool. If you live outside of Ontario, check with your local municipality to find your closest recycling point.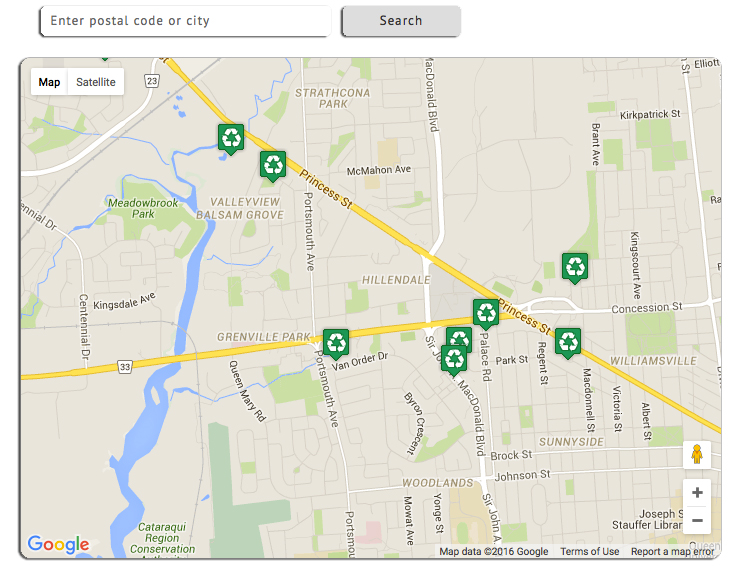 ---
Thank You
We have received your message and we will respond to you shortly.
Contact Us
Please use the form below to contact us today!
Sorry, there were error(s) with your submission.
Please try again.
Contact Us
Please use the form to the left, or contact us today at:
Toll Free: (888) 937-3382
Fax: (905) 835-6824
Raw Materials Company Inc.
17 Invertose Drive
Port Colborne, ON L3K 5V5
Canada
We will put you in touch with a representative that will be able to answer all of your questions.
Thank you!
Quick Links
For your convenience, here is a summary of important links related to this page.
Did you know?
Used batteries make up less than 1% of all waste found in municipal landfills. That 1% of batteries is responsible for 88% of all the toxic heavy metals found in the landfill.
Find out more about our technology and how together we are turning waste into a valuable resource.