OSBRC Raises Funds for SickKids Foundation!
June 20, 2018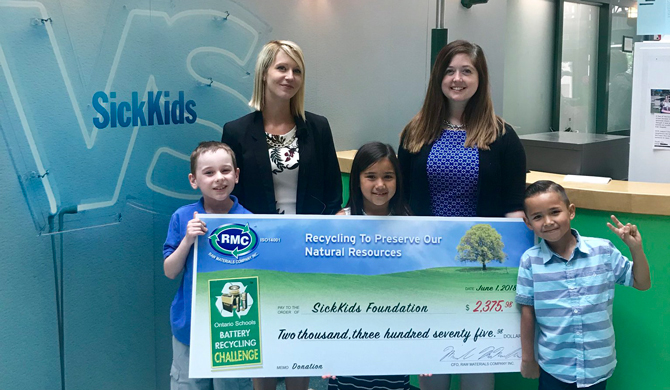 Toronto, ON – On June 20th, a small group of student representatives from the Ontario Schools Battery Recycling Challenge (OSBRC), travelled to The Hospital for Sick Children (SickKids) in Toronto to make a donation to SickKids Foundation.
This year, approximately 65,000 students and teachers took part in the Ontario School Battery Recycling Challenge and together they recycled more than 2.5 million household batteries, diverting harmful chemicals and reusable materials from Ontario landfills. A provincial prize pool awards the top three schools, and 10% of the prize pool reserved for SickKids Foundation. Since 2015, OSBRC participants have raised more than $7,800 for SickKids.
"We are incredibly grateful for the generous support and continued leadership of students participating in the Ontario Schools Battery Recycling Challenge," said Brianne Fodey, Associate, Community Events, SickKids Foundation. "The funds they raised will contribute to our SickKids VS Limits campaign to build a renewed, re-imagined SickKids with cutting-edge operating suites, more room for families and more room for the innovative technologies that will deliver better outcomes for kids."
The OSBRC is a provincial battery recycling competition between elementary and secondary schools administered by Raw Materials Company, a recycling facility for single-use batteries located in the City of Port Colborne. The aim of the Challenge is to teach students and their families how to properly handle and store batteries and how to prepare them for recycling. The OSBRC provides free resources for teachers and there is no cost for a school to participate.
Since the program started in 2014, students participating in the OSBRC have recycled more that 5.5 million single-use batteries. Most of those batteries are alkaline and are processed by Raw Materials Company using its patented recycling technology. 100% of each alkaline battery is recovered and reused, with no part of the battery going to the landfill.
"This year, OSBRC students recycled 0.90 kilograms each, edging closer to the group's pledge goal to recycle 1.36 kilograms each," said James Ewles, President of Raw Materials Company. "1.36 kilograms is what the average Canadian household accumulates in a year, so that achievement is very significant."
Ontario's recycling rate for single-use batteries has climbed significantly over the past several years. In 2017, the Province recycled 50% of what was available, making it one of the fastest growing recycling programs in the world for this material type.
"The OSBRC is helping to raise awareness for this common household waste that needs to be managed responsibly and these student ambassadors are a major contributor to that growing awareness," said Ewles. "We're very proud of them."
Elementary and secondary schools in the Province of Ontario are eligible to participate in the Challenge. Registration begins in September and the Challenge officially launches during Waste Reduction Week in October. For more information, please visit www.rawmaterials.com.
The Ontario Battery Recycling Challenge is made possible by the Stewardship Ontario Orange Drop program and funded by the Battery Manufacturers.
---
Did you know?
Lead-acid batteries are the oldest rechargeable batteries still in use today. In Canada, over 98% of all Lead-acid batteries are recovered for recycling.
Find out more about our technology and how together we are turning waste into a valuable resource.