Kingston School Defends OSBRC Title!
June 14, 2018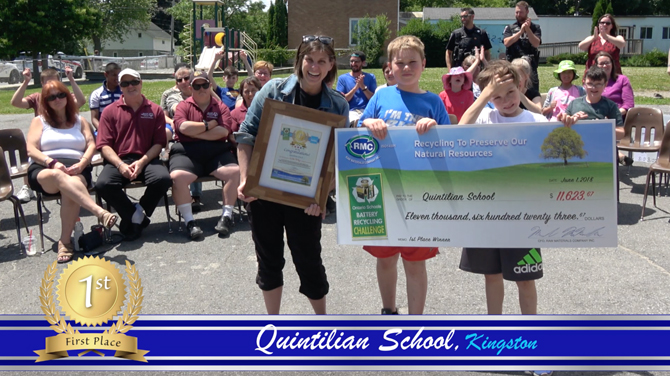 Kingston, ON – For the second time in as many years, students and teachers at Quintilian School in Kingston were crowned champions of the Ontario Schools Battery Recycling Challenge. Quintilian was presented with a first-place trophy and a share of the provincial prize pool at a ceremony earlier today.
This year, 65,000 students from 125 Ontario schools took part in the annual Challenge to recycle single-use batteries. The defending champs earned 57,583 points, while staving off a determined push by first-time participant, Centennial '67 Public School of Spencerville. In the end, Centennial '67 earned second place for its valiant effort and coming in third was another newcomer, Bayview Public School of Midland. All three schools took home a share of the $23,247 prize pool.
The winner of the $500 random draw that included all schools that met or exceeded the OSBRC Pledge was Davenport Public School of Aylmer.
"Quintilian School is very excited to have defended our winning title," said Laura DeSousa, Director of Planning at Quintilian School. "We had to work extra hard to fill those drums this year and our students and staff were overwhelmed by the support we received from our community."
Quintilian School will be sharing a portion of its winnings with the Kingston Chapter of the Special Olympics to help fund athletes in a variety of programs. A portion will also be donated to Quintilian Way, a local charity that provides a weekly social skills program and a summer day camp. The school will also donate some of its winnings to the Psychology Clinic at Queen's Bursary Program, an initiative that provides financial support for psychological assessments and intervention services to children and adolescents in need.
"Many of our students and alumni have benefited from these very important local programs over the years, and we're happy to be able to share some of our winnings with them," said DeSousa.
The Ontario Schools Battery Recycling Challenge (OSBRC) started in October and finished on the Friday before Earth Day (April 20th). During that time, students and teachers recycled more than 2.5 million batteries, diverting harmful chemicals and reusable materials from Ontario landfills.
"99% of OSBRC schools rang the bell this year," said Sarah Lacharity of Raw Materials Company, the Port Colborne based company that runs the Challenge. "With that outstanding display of teamwork, you managed to recycle 66% more than last Challenge, congratulations everyone!"
The purpose of the OSBRC is to teach children and their families about the proper way to handle and store batteries in the home and how to recycle them. Schools compete against each other for a share of a provincial prize pool, and they also work together to try to recycle as many batteries as they consume in a year.
"This year, OSBRC students recycled an average of 0.90 kilograms each, edging closer to the group's pledge goal to recycle 1.36 kilograms each," said James Ewles, President of Raw Materials Company. "1.36 kilograms is what the average Canadian household accumulates in a year, so that achievement is very significant."
Ontario's recycling rate for single-use batteries has climbed significantly over the past several years. In 2017, the Province recycled 50% of what was available, making it one of the fastest growing recycling programs in the world for this material type.
"The OSBRC is helping to raise awareness for this common household waste that needs to be managed responsibly and these student ambassadors are a major contributor to that growing awareness," said Ewles. "We're very proud of them."
A portion of the OSBRC prize pool is reserved for the SickKids Foundation and will be donated to the Foundation on behalf of all participants on June 20th, 2018.
Since 2014, students and teachers participating in the OSBRC have recycled more than 5.5 million batteries. The alkaline batteries recycled during the Challenge were processed at Raw Materials Company using its patented recycling technology. 100% of each alkaline battery is reused and nothing is sent to the landfill. Recycling displaces the need to mine for the equivalent amount of raw materials from ore, a major cause of green-house gas emissions.
Funding for the transportation and recycling of the batteries was provided through the Stewardship Ontario Orange Drop program. To learn more about the Ontario Schools Battery Recycling Challenge, please visit www.rawmaterials.com.
About Raw Materials Company:
Raw Materials Company is the industry leading battery recycling company whose process achieves the highest recovery and recycling rate in North America. RMC was established in 1985 and employs 50 people in the community of Port Colborne, Ontario. RMC is an approved transporter and processor under the Stewardship Ontario Battery Incentive Program.
---
Did you know?
Raw Materials Company uses a mechanical process that separates all of the components of a primary battery so they can be properly recycled. The recovered materials are used to make new products saving our earth's finite resources and the energy needed to mine them from ore.
Find out more about our technology and how together we are turning waste into a valuable resource.