School Battery Recycling Program
We supply 2 and 5 gallon recycling pails and 25 and 45 gallon high visibility drums. We also accept a wide variety of UN certified containers and can provide transportation for any size shipment.
---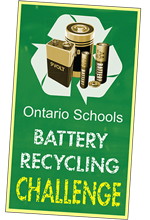 Ontario Schools Battery Recycling Challenge
The Ontario Schools Battery Recycling Challenge is for elementary and secondary schools in the Province of Ontario. There is no cost to participate and there's a chance to win great cash prizes.
Learn more about the Ontario Schools Battery Recycling Challenge.
---
Accessible & Convenient Recycling
We will provide you with all of the necessary battery recycling containers for your school and we'll give you advice about where to place them to maximize participation.
Promotion Support
All of our recycling containers are branded, clearly identifying the acceptable batteries for recycling.
Need help rolling out your program? We can provide you with a variety of print and electronic promotional materials to help you engage your staff and students to increase participation.
Find out more information about battery types and their uses in our Education Centre.
Fast & Convenient Pickup
Once battery collection containers are full, simply call the number located on the container. Pick up can be arranged in as little as 24 hours.
Recycling Efficiency
You spend time and effort to collect and divert your batteries from landfill. You also pay a fair price for recycling. Shouldn't you ensure your hard work and money result in the best environmental performance?
Visit our technology page to find out what happens to your batteries when they're recycled at RMC.
Waste Management
Raw Materials Company is a licensed collector, transporter, and processor of other lead and mercury bearing wastes such as fluorescent lamps and electronic waste.
Visit waste management and additional services for more information.
Shipping to RMC from the USA?
All materials being transported to RMC within the U.S. are subject to Universal Waste Regulations (State Regulations may also apply).
To learn more about the documentation required to properly ship your batteries and other recyclable waste, please visit our US Client Information page.
Recycling Technology
Our clients can rest assured knowing that the batteries they ship to RMC will be recycled using the most environmentally sustainable technology available in the world today.
Learn more about our technology.
---
Thank You
We have received your message and we will respond to you shortly.
Contact Us
Please use the form below to contact us today!
Sorry, there were error(s) with your submission.
Please try again.
Contact Us
Please use the form to the left, or contact us today at:
Toll Free: (888) 937-3382
Fax: (905) 835-6824
Raw Materials Company Inc.
17 Invertose Drive
Port Colborne, ON L3K 5V5
Canada
We will put you in touch with a representative that will be able to answer all of your questions.
Thank you!
Quick Links
For your convenience, here is a summary of important links related to this page.
Did you know?
Zinc is one of the world's most commonly used metals. Approximately 30% of the zinc today comes from recycled sources. Raw Materials Company is able to recover zinc from the batteries that you recycle. The zinc we recover is then reused as micronutrients in fertilizer to grow corn for biofuel.
As a result of RMC's recycled materials, farmers are able to increase their yields by over 20 bushels per acre. This is important considering our growing population and the need to make efficient use of our existing farmland.
Find out more about our technology and how together we are turning waste into a valuable resource.