RMC Receives a Technological Innovation Award from NEYA
March 12, 2014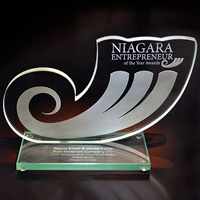 Port Colborne, ON - Wayne Elliott and James Ewles of Raw Materials Company were recognized with a Niagara Entrepreneur of the Year Award (NEYA) at the organization's annual Awards Gala held at the Sheraton Hotel in Niagara Falls on Friday March 7th, 2014.
The Niagara Entrepreneur of the Year Awards honour enterprising people whose businesses have made significant differences in the community, and in our lives.
This year's gala was attended by some of the best and brightest business leaders from across Niagara Region.
Raw Materials Company, a Port Colborne based battery recycler, received NEYA's Technological Innovation Award for its patented battery recycling technology. The RMC 3500 was specifically designed to recycle alkaline batteries, which account for 80% of all the primary single-use consumer batteries sold on the Ontario market every year.
RMC's process is unique because it recovers 100% of each alkaline battery processed for reuse. No part of the battery is sent to the landfill. Up to 92% of the component materials are upcycled, meaning they're reused in applications that they were originally intended for. The zinc, manganese, potassium and steel recovered from alkaline batteries displace the need for equivalent virgin materials and the energy and resources required to mine them from ore.
Ontario's Provincial Battery Program is one of the fastest growing programs of its kind and has achieved some of the highest recycling efficiencies in the world.
"It's refreshing to know that Ontario's consumer batteries collected under the current Provincial MSHW Program are managed responsibly, right here in Ontario, " said James Ewles, President of Raw Materials Company. "As with any waste derived from Ontario that is hazardous or designated as special waste, we need to encourage environmentally sustainable solutions that promote up-cycling of materials rather than down-cycling or disposal of wastes and resources."
RMC has the capacity to recycle all of the primary single-use batteries sold across Canada annually.
Raw Materials Company employs 47 full time staff from Port Colborne and the surrounding area. The company strives to be a positive influence in the community through its support of local organizations such as Port Cares and through its work repurposing an old industrial site into what is now a beautiful park and one of the best vantage points for ship watching on the Great Lakes – Derek Point.
RMC has been the recipient of several awards over the last two years for its innovative recycling programs and environmentally responsible recycling technology for consumer batteries.

---
Did you know?
Zinc is one of the world's most commonly used metals. Approximately 30% of the zinc today comes from recycled sources. Raw Materials Company is able to recover zinc from the batteries that you recycle. The zinc we recover is then reused as micronutrients in fertilizer to grow corn for biofuel.
As a result of RMC's recycled materials, farmers are able to increase their yields by over 20 bushels per acre. This is important considering our growing population and the need to make efficient use of our existing farmland.
Find out more about our technology and how together we are turning waste into a valuable resource.