Ontario's 2014 Spring Curbside Battery Collections Increase 67%
June 25, 2014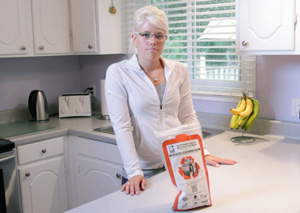 Port Colborne, ON – The final drums filled with household batteries have been processed and Ontario's spring curbside recycling numbers are in.
Throughout the months of March and April more than 30 communities across Ontario had the opportunity to conveniently recycle their household batteries during a special collection at the curbside. More than 62,000lbs of batteries were recycled, a 67% increase over spring collections last year with a fall collection still on the horizon.
"The program seems to be well received by every community that participates," said Cory Graper of Raw Materials Company (RMC). RMC is the Port Colborne based battery recycler that helped develop the Ontario curbside battery program in cooperation with Stewardship Ontario and several Ontario municipalities.
"Besides collecting and properly diverting all these batteries from landfill, we're also raising awareness that there's more to recycling than just blue box materials," said Tanya Delany, Hazardous & Electronic Waste Supervisor at Quinte Waste Solutions in Trenton. "This is where the Blue Box [a familiar program] meets Orange Drop a slightly lesser known option to recycle hazardous waste."
Household batteries along with 9 other categories of hazardous waste can be recycled year round for free at Municipal Hazardous & Special Waste (MHSW) depots found in most municipalities throughout Ontario. To find your MHSW depot you can search Stewardship Ontario's Orange Drop website at www.makethedrop.ca.
Recycling batteries in Ontario hasn't always been convenient. In 2009, very few public facing collection sites existed in the province resulting in stagnant recycling rates of less than 5%. The introduction of Stewardship Ontario's Battery Incentive program has allowed RMC to open 3500 new battery collection sites across the province from Thunder Bay to Fort Erie. Access to convenient battery recycling for Ontario residents has helped increase collections to approximately 20% of the batteries sold in just over three years, making Ontario's battery recycling program the fastest growing and most successful program in North America.
The batteries recycled from the curbside collections will be processed using the most environmentally sustainable technology available in the world. Battery components are mechanically crushed and separated into various metals, minerals, plastic and paper. 100% of the materials are reused and more than 86% of the battery components are upcycled. None of the battery materials enter the landfill and all recovered products are reused by industry within a few hundred miles of the RMC facility. Proper recovery and reuse of these materials reduces energy consumption and greenhouse gas emissions by over 80% when compared to mining and refining these materials from ore.
Any Ontario community that wants to provide the curbside battery collection can receive an incentive to help cover the logistical and promotional costs of the program. The incentive is provided through the Stewardship Ontario Battery Incentive Program (BIP) that was created on behalf of battery manufacturers as a means to increase the collection of batteries in the province of Ontario.
"Diverting batteries from landfill is a joint effort requiring program financing by battery manufacturers through Stewardship Ontario, the environmental leadership of Ontario municipalities, the active participation of residents and our sustainable battery recycling process," said Cory Graper of Raw Materials Company Inc.
Fall curbside collections are scheduled for November. To learn more about Ontario's battery recycling programs or to find a municipal or retail recycling point for household batteries in your community, visit www.rawmaterials.com.
---
Did you know?
Raw Materials Company uses a mechanical process that separates all of the components of a primary battery so they can be properly recycled. The recovered materials are used to make new products saving our earth's finite resources and the energy needed to mine them from ore.
Find out more about our technology and how together we are turning waste into a valuable resource.