OSBRC Makes Donation to SickKids!
June 11, 2019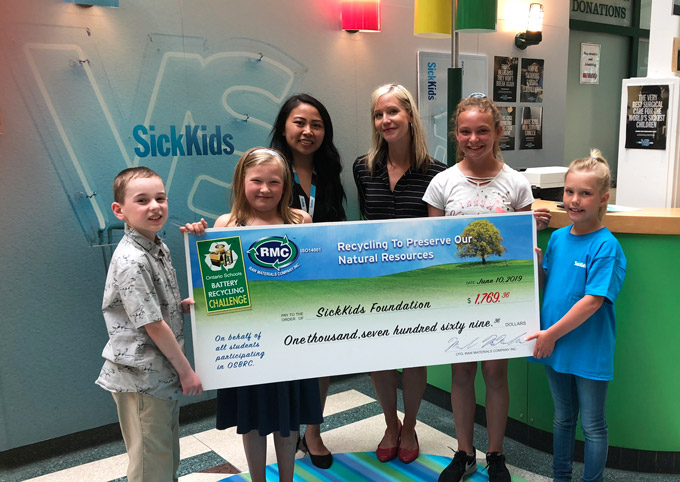 Left to right - Nathan of Harriet Tubman, Anika of Montgomery Village PS, Suzanne Vu of SickKids, Sarah Lacharity of Raw Materials Company, Mackenzie and Lilah of Springfield
Toronto, ON – On June 10th, student ambassadors from the Ontario Schools Battery Recycling Challenge, paid a visit to the Hospital for Sick Children (SickKids) in Toronto to make a donation to the SickKids Foundation on behalf of all Challenge participants.
More than 90,000 students took part in the annual recycling competition to recycle single-use batteries at home and at school. Together they recycled more than 2.5 million household batteries, giving the materials inside them a second chance at life.
The Ontario Schools Battery Recycling Challenge teaches students and their families about the proper way to handle and store household batteries, and how to recycle them when they no longer hold a charge. Since 2014, OSBRC students have raised close to $10,000 for the SickKids Foundation through the annual recycling Challenge.
"We rely on the members of our community to help us achieve our ambitious fundraising goals and are grateful to the OSBRC for their support," said Suzanne Vu, Community Events at SickKids Foundation. "It is always so nice to see students come together to make an impact in their community."
The OSBRC was created by Raw Materials Company (RMC) of Port Colborne, Ontario. RMC developed an advanced recycling technology for single-use alkaline batteries. All together, students participating in the Challenge have recycled more than 8 million batteries since the Challenge started, diverting harmful chemicals and reusable resources from community landfills across Ontario.
The Hospital for Sick Children was built in 1949, and at the time, it was the largest children's hospital in the world. SickKids was expanded again in 1993 with the addition of the Atrium Building and in 2016, the SickKids Foundation launched its VS Fundraising campaign with a goal to raise more than $1.3 billion. The money is being raised to support three key elements: re-imagining the campus, including the construction of a new patient care centre, continuing breakthrough paediatric health research and establishing partnerships for better, coordinated patient care.
People living in Ontario can recycle their batteries any time of the year at thousands of recycling points setup at stores across the Province. In 2017, Ontario residents recycled 50% of the single-use batteries that were sold in the Province that year, one of the highest collection rates in the world for this material type.
About Raw Materials Company:
Raw Materials Company is the industry leading battery recycling company whose process achieves the highest recovery and recycling rate in North America. RMC was established in 1985 and employs 50 people in the community of Port Colborne, Ontario. RMC is an approved transporter and processor under the Stewardship Ontario Battery Incentive Program.
---
Did you know?
Used batteries make up less than 1% of all waste found in municipal landfills. That 1% of batteries is responsible for 88% of all the toxic heavy metals found in the landfill.
Find out more about our technology and how together we are turning waste into a valuable resource.