Springfield Public School Wins Provincial Recycling Challenge!
June 14, 2016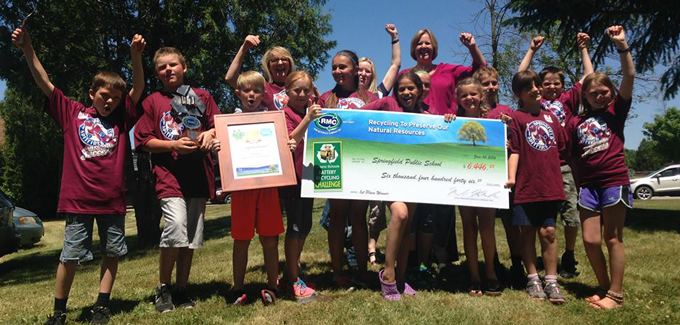 Springfield, ON - On June 14th, Raw Materials Company of Port Colborne stopped by Springfield Public School to award them with a first place trophy and a cheque for $6,446!
Springfield Public School was the winner of the Ontario Schools Battery Recycling Challenge (OSBRC), a recycling competition between elementary and secondary schools in the province. The program reached 70,000 students and together they recycled over 1 million batteries this year! A 43% increase over last year's Challenge. Springfield Public School earned 38,194 points, securing first place in the competition.
This was Springfield's second year participating in the OSBRC. Last year they had a tough finish well outside of the leaderboard, but renewed buy-in and a fresh outlook made all the difference for this rural Ontario school this time around.
"We are ecstatic to learn the efforts of recycling batteries have made a difference for our little rural school in Springfield but more importantly for the environment," said Sheri Webb, Secretary at Springfield Public School. "It has been fantastic to see the students, staff, parents and community come together for a common goal. The students have learned so much through this process about how they can make a positive change in the world."
Early in the Challenge, the school's secretary Mrs. Webb invited students to create posters to hang around the school. Soon after, Mrs. McQuiggan's grade 4/5 class jumped on board and Springfield's program really took off after that.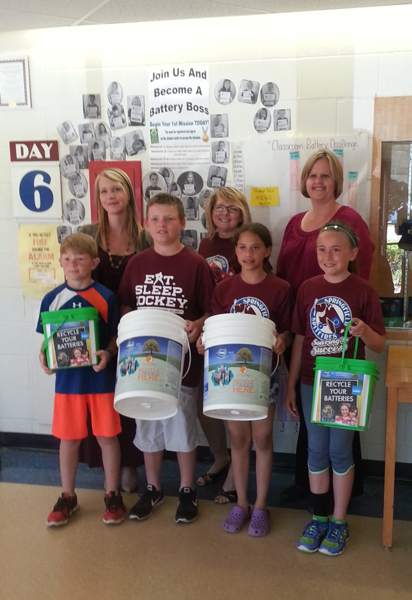 As a part of the Challenge, students were invited to participate in Student Missions for a chance to win individual prizes. Students that completed five missions were given a certificate along with the title 'Battery Boss'. To encourage the students to participate, the school setup a 'Battery Boss Wall of Fame' and every student that received a certificate had their picture put up on the wall. Springfield Public School had 64 Battery Bosses, the highest count out of all of the schools participating.
With help from their parents, these dedicated Battery Bosses and the students and staff of Springfield Public school made a tremendous effort to save dead batteries from the landfill in their community. They hung posters around town, reached out to the local press and once the word spread, community support and battery collections rallied.
"We were very impressed with Springfield's campaign this year. It was great to see the community come together to support the local school and their efforts really paid off," said Sarah Lacharity of Raw Materials Company. "It's inspiring to see students rally behind an environmental cause and the local community and the environment will benefit from all of their hard work."
Similar to last year's winner, Springfield plans to use some of the money to plant some greenery and build a pergola over their outdoor eco-classroom.
"It's exciting to have extra funds to enhance our green space outside and continue to teach our children about the importance of being responsible for our environment. Students will know they played an important part in making our outdoor classroom a reality," said Mrs Webb.
Woodstock Christian School, just down the road from Springfield, came in third place and received a cheque for $1,933. Quintilian Private School of Kingston finished in second and received $3,223. 10% of the prize pool will be donated to SickKids Foundation on behalf of all participants during a visit to the SickKids Children's Hospital on June 22nd 2016.
The OSBRC is meant to teach children and their families about the proper ways to handle, store and recycle batteries at home and at school. The program offers many free resources for educators and there is no cost for a school to participate.
Prize money is awarded based on the total number of alkaline batteries collected during the contest. For every kilogram of single-use alkaline batteries recycled, RMC pays money into a provincial prize pool to award the top three schools.
Funding for the transportation and recycling of the batteries was provided through the Stewardship Ontario Orange Drop program.
Since 2015, schools participating in the Ontario Schools Battery Recycling Challenge have recycled more than 1.8 million household batteries, a 255% increase in school recycling since the Challenge started. 100% of the alkaline batteries they recycled are reused and nothing is sent to the landfill. Recycling displaces the need to mine for the equivalent amount of raw materials from ore, a major cause of green house gas emissions.
About Raw Materials Company:
Raw Materials Company is the industry leading battery recycling company whose process achieves the highest recovery and recycling rate in North America. RMC was established in 1985 and employs 50 people in the community of Port Colborne, Ontario. RMC is an approved transporter and processor under the Stewardship Ontario Battery Incentive Program.
---
Did you know?
Raw Materials Company uses a mechanical process that separates all of the components of a primary battery so they can be properly recycled. The recovered materials are used to make new products saving our earth's finite resources and the energy needed to mine them from ore.
Find out more about our technology and how together we are turning waste into a valuable resource.