Springfield Public School Recycles Most Batteries in Provincial Challenge!
June 13, 2019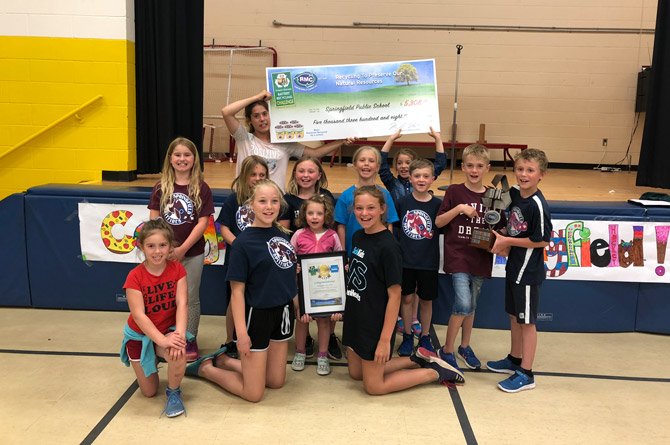 Springfield, ON - June 14, 2019 – The Ontario Schools Battery Recycling Challenge (OSBRC) just wrapped up its fifth season and for the third time, Springfield Public School has found itself a spot on the podium. The rural Ontario school of 190 students recycled more batteries than any other school in the entire Province.
"This was the 5th time we participated in the OSBRC and we appreciate RMC organizing such a fun event. As a school we set goals and created a plan, and everyone joined in with great determination. We talked about the importance of recycling batteries and how every one of us can make a difference to our world," said Sheri Webb of Springfield Public School. "The kids were encouraged to become Battery Bosses, ask family and friends to bring in batteries, we had some friendly classroom challenges, placed posters around town, and had a neighbourhood door to door collection. Like they say, 'it takes a village' and Springfield is a perfect example of this statement. Of course, we are thrilled to receive funds for the 3rd time and this year would like to use our prize money towards technology and possibly something to enhance our outdoor area."
"The tenacity the students at Springfield showed this year was inspiring," said Sarah Lacharity of Raw Materials Company. "Last year they worked really hard but unfortunately ended up just outside the top three. I imagine it was a very special achievement for them to be able to come back this year."
Quintilian Private School recycled the most batteries based on average student body to finish at the top of that leaderboard. The Kingston area school is no stranger to the OSBRC, in fact it finished 1st overall the last two seasons.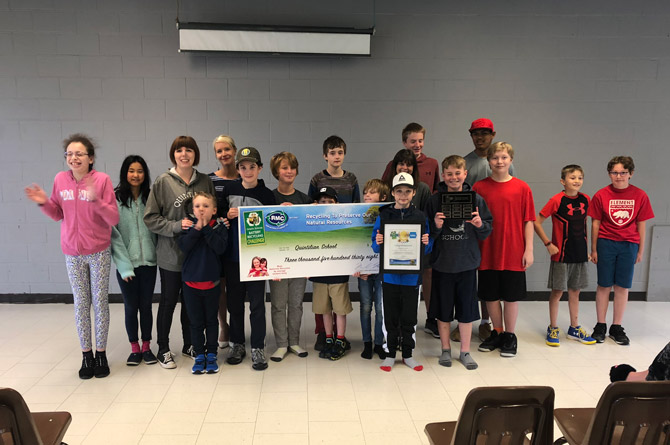 "We are thrilled to have participated in the Ontario Schools Battery Recycling Challenge for a third year in a row. The support from our amazing school community has once again been overwhelming," said Laura DeSousa of Quintilian. "We are a small independent school with less than 40 students, and we were able to recycle over 340,000 single use batteries since we started participating in the Challenge. It shows that no matter how small you are, you can make huge impact!"
"Quintilian was the smallest school this season and they still managed to recycle more batteries than 197 other schools," said Lacharity. "That's incredible."
The honourable mention goes to Bayview Public School of Midland. Bayview finished the Challenge with the second most batteries recycled overall.
The Challenge awarded more than $24,000 worth of prizes to schools, students and the SickKids Foundation, including $6000 worth of Soil Re-mineralizer that was also donated by Iron Earth Canada to support school garden programs. The school that recycled the most batteries and the school that recycled the most based on the number of students enrolled both took home a share of the provincial prize pool. Another 27 schools that met or exceeded the OSBRC Pledge also received a cut of the prize pool. Pledge schools recycled at least 1.36 kilograms per student enrolled, which is the amount of single-use batteries the average Canadian household accumulates in a year.
The Challenge reached 90,876 students and teachers and together they recycled 2.5 million household batteries.
The OSBRC is an annual recycling competition between primary and secondary schools across Ontario. It teaches children and their families about the proper way to handle and store batteries in the home and how to recycle them. The Challenge started on the first day of Waste Reduction Week in October and finished just before Earth Day in April.
More than 355,000 students have participated in the annual recycling challenge since 2014. Together they have recycled more than 8 million single-use batteries, diverting harmful chemicals and reusable materials from community landfills across Ontario. The alkaline batteries recycled during the Challenge were processed at Raw Materials Company in Port Colborne, Ontario using its patented recycling technology. 100% of each alkaline battery is reused and nothing is sent to the landfill. Recycling displaces the need to mine for the equivalent amount of raw materials from ore, a major cause of green-house gas emissions.
Funding for the transportation and recycling of the batteries was provided by the battery manufacturers through the Stewardship Ontario Orange Drop program. To learn more about the Ontario Schools Battery Recycling Challenge, please visit www.rawmaterials.com.
About Raw Materials Company:
Raw Materials Company is the industry leading battery recycling company whose process achieves the highest recovery and recycling rate in North America. RMC was established in 1985 and employs 50 people in the community of Port Colborne, Ontario. RMC is an approved transporter and processor under the Stewardship Ontario Battery Incentive Program.
---
Did you know?
Lead-acid batteries are the oldest rechargeable batteries still in use today. In Canada, over 98% of all Lead-acid batteries are recovered for recycling.
Find out more about our technology and how together we are turning waste into a valuable resource.