RMC Receives Platinum & Gold at 2012 RCO Waste Minimization Awards
November 21, 2012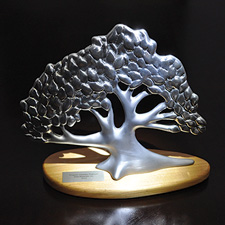 Raw Materials Company received a Platinum Award for Program Operator and a Gold Award for Sustainable Service at the 2012 RCO Waste Minimization Awards.
The Recycling Council of Ontario (RCO) Waste Minimization Awards is held every year during Waste Reduction Week to recognize and celebrate results in waste reduction and recycling.
During the gala event, which was held in Toronto on October 18th, Raw Materials Company was recognized with awards in two categories.
The Program Operator category evaluates applications from private and public sector waste diversion program operators, recyclers and processors involved in residential or IC&I collection and/or processing.
Scoring emphasizes continuous improvement for repeat applicants in the program. In order to achieve a platinum level score a repeat applicant will need to demonstrate a major improvement in the program with quantifiable outcomes.
In 2012, under Stewardship Ontario's newly formed Battery Incentive Program (BIP), Raw Materials Company established over 2700 public facing battery recycling locations across the Province of Ontario helping to make battery recycling accessible for the majority of Ontarians.
This increase in accessibility led to the collection of over 1.8 million pounds of single-use alkaline batteries in 2012.
Sustainable Product or Service evaluates products or services that improve the management of resources, reduce wastes and/or minimize negative environmental impacts during their own lifecycle or the lifecycle of other goods and services (as they are manufacture/produced, consumed or at the end of useful life). For example: products containing recycled content, reusable packaging systems, treatment technologies, etc.
RMC is recognized in this category for the RMC 3500, a mechanical battery recycling technology specifically designed to recycle alkaline batteries. The RMC 3500 is capable of recovering 100% yield of an alkaline battery with no component materials going into the landfill.
Click here to see the congratulation letter from the Honorable Jim Bradley, Minister of the Environment.
---
Did you know?
Lead-acid batteries are the oldest rechargeable batteries still in use today. In Canada, over 98% of all Lead-acid batteries are recovered for recycling.
Find out more about our technology and how together we are turning waste into a valuable resource.