RMC Receives Double Platinum and Gold for its Sustainable Battery Recycling Process at the RCO Awards Gala
December 1, 2014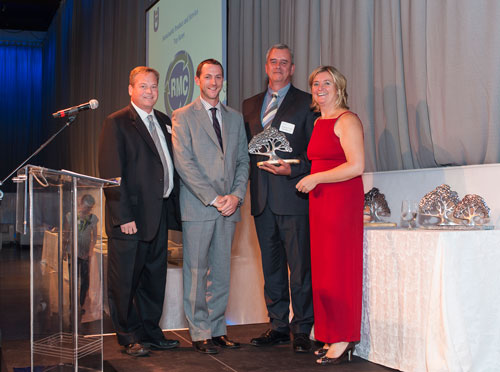 Toronto, ON - Each year the RCO Awards Gala recognizes and celebrates the innovation and achievements of both public and private sector organizations in waste reduction and recycling. This year the Awards Gala was attended by 60 organizations and was hosted at the Liberty Grand Entertainment Complex in Toronto on October 23rd, 2014.
Raw Materials Company received awards in several categories including a top score or Platinum award for Sustainable Product and Service, a Platinum award for Program Operator and a Gold award in the recently added Partnership category.
A team of seasoned waste industry professionals judges each award category and applications are reviewed both individually and then collaboratively to arrive at a final score. Judges are looking at the range and quantities of materials recycled and the markets developed for those materials. They also consider an organization's processing capacity and its due diligence in tracking materials to their final disposition.
"As a specialty recycler, RMC has a very high diversion rate which contributes significantly to achieving the top score," explained Diane Blackburn, Events Manager at the Recycling Council of Ontario.
"RMC is appreciative of RCO's recognition of the hard work required to achieve these awards," said James Ewles, President of Raw Materials Company. "We are proud of our current progress and remain diligent in our efforts to help the Ontario primary battery program be the first to meet a mandated collection target in North America."
Raw Materials Company, an approved collector and processor under the Stewardship Ontario Battery Incentive Program has an extensive collection network across Ontario that provides consumers ease of access to recycle their batteries. As a result, RMC has increased its collections of primary batteries by more than 20% year-to-date.
"We've introduced a new province wide recycling competition for elementary and secondary schools and we've expanded the curbside battery recycling program by 150,000 homes this fall" said Ewles.
Raw Materials Company has built effective partnerships with Ontario municipalities, supporting local waste diversion programs with innovative recycling options such as curbside battery recycling that is currently offered to approximately 500,000 homes across the province bi-annually.
The company's biggest contribution to waste diversion in Ontario is its environmentally sustainable recycling process for primary alkaline batteries. RMC's Ontario-made solution is a mechanical process that separates the component materials of an alkaline battery. Separating the component materials using the RMC process produces the highest alkaline battery recycling efficiency in the world (up to 92%) where the components of a single use battery are upcycled into products that are environmentally beneficial and sustainable. 100% of each battery is reused and no materials are sent to the landfill.
About Raw Materials Company
Raw Materials Company is the industry leading battery recycling company whose process achieves the highest recovery and recycling rate in North America. RMC was established in 1985 and employs 50 people in the community of Port Colborne, Ontario. RMC is an approved transporter and processor under the Stewardship Ontario Battery Incentive Program.
---
Did you know?
Zinc is one of the world's most commonly used metals. Approximately 30% of the zinc today comes from recycled sources. Raw Materials Company is able to recover zinc from the batteries that you recycle. The zinc we recover is then reused as micronutrients in fertilizer to grow corn for biofuel.
As a result of RMC's recycled materials, farmers are able to increase their yields by over 20 bushels per acre. This is important considering our growing population and the need to make efficient use of our existing farmland.
Find out more about our technology and how together we are turning waste into a valuable resource.