Recycling Batteries Helps Kingston Charity
October 27, 2014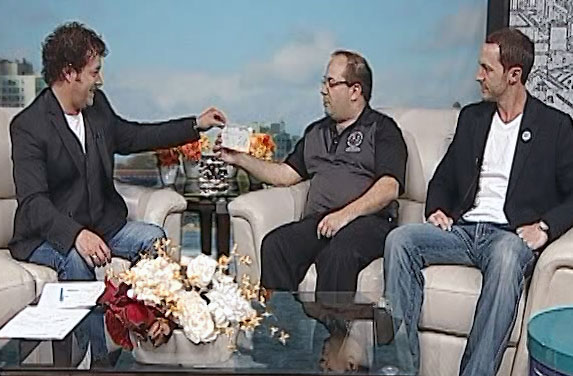 Kingston, ON - On Tuesday, October 7th, 2014, Cory Graper of Raw Materials Company and Ben Santucci of Westchester Logistics presented Corus Entertainment with a $1000 cheque in support of Corus' Clothes for Kids Campaign.
The donation comes from 4000 lbs. of household batteries that were recycled by the local community at the three Canadian Tire stores in Kingston as well as from the Corus Entertainment building on Queen Street over the past year.
"This program has been a huge success for us in terms of how many batteries have been recycled, but what's more important is that the charity is able to go out and purchase warm clothes for these local children," said Cory Graper of Raw Materials Company.
Every year, Corus' Clothes for Kids campaign provides local children in need with warm clothing for winter. Local community groups, businesses and individuals can donate snowsuits to the charity or make a monetary donation that will be used to purchase one. Since the start of the Clothes for Kids battery recycling program in November 2012, more than 20,000 lbs of household batteries have been recycled, raising $4,400 for the local charity.
"With the cold weather on our doorstep, we want to encourage residents and local businesses to recycle their batteries at one of these Canadian Tire stores so that we can come back and present another cheque before Christmas," said Ben Santucci of Westchester Logistics. "If we can recycle another 3000 lbs. before December 31st, we'll beat last year's record."
Anyone who is interested in supporting Clothes for Kids with a donation of a snowsuit or money to purchase one, please contact Kristin Moore at Corus Entertainment by email (Kristin.Moore@corusent.com).
---
Did you know?
Lead-acid batteries are the oldest rechargeable batteries still in use today. In Canada, over 98% of all Lead-acid batteries are recovered for recycling.
Find out more about our technology and how together we are turning waste into a valuable resource.