Quintilian School Wins Provincial Recycling Challenge!
June 16, 2017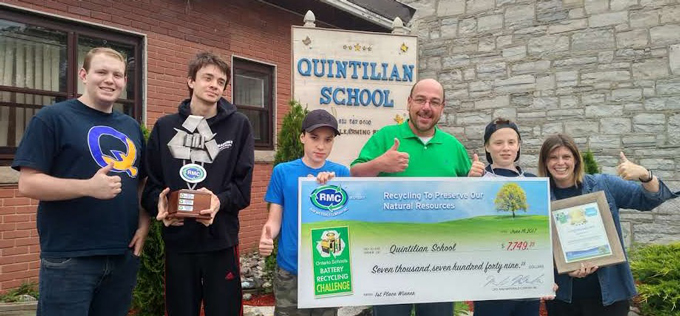 Kingston, ON - On June 16th, Raw Materials Company of Port Colborne paid a special visit to Quintilian School of Kingston to award them a first-place trophy and a cheque for winning the Ontario Schools Battery Recycling Challenge (OSBRC).
The OSBRC is a recycling competition between elementary and secondary schools across Ontario. The Challenge reached 70,000 students and together they recycled close to 1.2 million single-use batteries. An 18% increase over the number of batteries recycled from the same number of students last year. Quintilian earned 55,100 points and took home a portion of the $15,498 prize pool.
"It was fun to do the battery drive. It was a lot of work too!" said grade six student Kai.
As part of the Challenge, OSBRC schools set out with a goal to recycle 1.36 kilograms of batteries per student enrolled. 1.36 kilograms is what the average Canadian family accumulates in a year. With help from the local community, Quintilian students managed to recycle 40 times that amount.
"It wasn't just a competition, we also did this for the environment," said grade five student, Cassidy. "Batteries shouldn't go in the dump. We need to recycle them and it's amazing how many batteries could have ended up in the dump!"
This was Quintilian's second year participating in the OSBRC. Last year the Kingston area school finished the Challenge in second place and used its winnings to purchase new laptops for the 7/8 classroom.
"We are hoping to use this year's prize money to update some very old technology that the school is still using," said Laura DeSousa, Director of Planning at Quintilian Private School. "Our students also expressed a desire for some updated outdoor equipment."
"We are all very proud of Quintilian and all of the other schools that worked hard this year to recycle batteries," said Mike Kersley of Raw Materials Company. "These students embodied the spirit of teamwork and their determination this year was fantastic."

The defending champion, Springfield Public School, finished the Challenge in second place after coming first in the 2015/2016 Challenge. The rural London area school continues to hold the record for OSBRC Student Missions with 84 students completing missions this year.
"After having been involved with the battery recycling program, I don't see any of our students disposing of batteries in the trash for the rest of their lives," said Keith Alward, teacher at Springfield Public School.
"The battery challenge has showed us how to be leaders and teach younger students to care about our environment," said Amy Cox, student at Springfield P.S.
"The students have enjoyed the 16 Chromebooks and two iPads that we purchased with the funds we won last year," said Sheri Webb, secretary at Springfield Public School. "With our winning cheque this year, we have decided to donate $1000 to the SickKids Foundation in Toronto to assist Raw Materials Company Inc. in their venture of supporting this foundation. The remaining funds will be put towards innovative technology."
Rounding out the top three was newcomer Muskoka Christian School (MCS). Muskoka got off to a lightning fast start and really set the pace for several months. MCS plans to use its share of the prize to update the non-fiction section of the library, including the recycling and environment section.
A portion of the prize pool will be donated to SickKids Foundation on behalf of all participants during a visit to the Hospital for Sick Children on June 21st, 2017.
The OSBRC is meant to teach children and their families about the proper ways to handle, store and recycle batteries at home and at school. The program offers many free resources for educators and there is no cost for a school to participate.
Prize money is awarded based on the total number of alkaline batteries recycled during the contest. For every kilogram of single-use alkaline batteries recycled, RMC pays money into a provincial prize pool to award the top three schools.
Funding for the transportation and recycling of the batteries was provided through the Stewardship Ontario Orange Drop program.
Since 2015, schools participating in the Ontario Schools Battery Recycling Challenge have recycled more than 3 million household batteries. 100% of the alkaline batteries they recycled are reused and nothing is sent to the landfill. Recycling displaces the need to mine for the equivalent amount of raw materials from ore, a major cause of green-house gas emissions.
To learn more about the Ontario Schools Battery Recycling Challenge, please visit www.rawmaterials.com.
About Raw Materials Company:
Raw Materials Company is the industry leading battery recycling company whose process achieves the highest recovery and recycling rate in North America. RMC was established in 1985 and employs 50 people in the community of Port Colborne, Ontario. RMC is an approved transporter and processor under the Stewardship Ontario Battery Incentive Program.
---
Did you know?
Lead-acid batteries are the oldest rechargeable batteries still in use today. In Canada, over 98% of all Lead-acid batteries are recovered for recycling.
Find out more about our technology and how together we are turning waste into a valuable resource.