Peterborough County School Wins Provincial Recycling Challenge!
June 17, 2015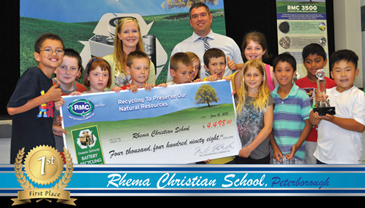 Peterborough, ON - The results are in and this year's winner of the Ontario Schools Battery Recycling Challenge (OSBRC) is Rhema Public School of Peterborough County, Ontario.
More than 57,000 students and staff from 100 schools across the province participated in the 2014/2015 OSBRC to recycle single-use batteries. Rhema earned 13,603 points with each student recycling a whopping 10 times what the average Canadian household accumulates in an entire year.
In total, 25,628 kilograms (56,500 pounds) were recycled and diverted from landfills across Ontario, of which 22,823 kilograms were single-use batteries. For all of their hard work and dedication, Rhema Public School received a first place trophy and a cheque for $4,498.
"My students bought into the challenge from the beginning," said Joel Slofstra, Principle at Rhema Christian School. "It's awesome to see a group of kids so excited about taking care of the environment, learning things that they will take with them for the rest of their lives."
The prize money Rhema received will be used to purchase gym and science equipment and a portion will be used to publish the school's Bird Guide. The rest of the money will go toward the construction of an outdoor eco-classroom.
"These are things that the class will be able to look back on and say - I was a part of that!" added Mr. Slofstra.
Coming in second place was Fairmont Public School of London, Ontario. Fairmont earned 12,492 points and a cheque for $2249. In Third place was Central Baptist Academy of Brantford with 5,858 points. They were awarded a cheque for $1,349.
"Everyone that participated this year did a fantastic job," said Sarah Lacharity of Raw Materials Company. "We're very pleased with the results and in the fall we'll be including more schools and we'll recycle even more batteries!"
Funding for the transportation and recycling of the batteries was provided through the Stewardship Ontario Orange Drop program.
Prize money is awarded based on the total number of alkaline batteries collected during the contest. For every kilogram of single-use alkaline batteries recycled, RMC pays money into a provincial prize pool to award the top three schools. To level the playing field, scores for each school are based on the average weight of batteries collected per student and staff enrolled. Rhema Public School was one of the smallest schools participating in this year's Challenge.
The OSBRC is meant to teach children and their families about the proper ways to handle, store and recycle batteries at home and at school. The program offers many free resources for educators and there is no cost for a school to participate.
About Raw Materials Company:
Raw Materials Company is the industry leading battery recycling company whose process achieves the highest recovery and recycling rate in North America. RMC was established in 1985 and employs 50 people in the community of Port Colborne, Ontario. RMC is an approved transporter and processor under the Stewardship Ontario Battery Incentive Program.
---
Did you know?
Zinc is one of the world's most commonly used metals. Approximately 30% of the zinc today comes from recycled sources. Raw Materials Company is able to recover zinc from the batteries that you recycle. The zinc we recover is then reused as micronutrients in fertilizer to grow corn for biofuel.
As a result of RMC's recycled materials, farmers are able to increase their yields by over 20 bushels per acre. This is important considering our growing population and the need to make efficient use of our existing farmland.
Find out more about our technology and how together we are turning waste into a valuable resource.