Ontario Schools Raise $2578 for SickKids Hospital!
June 22, 2016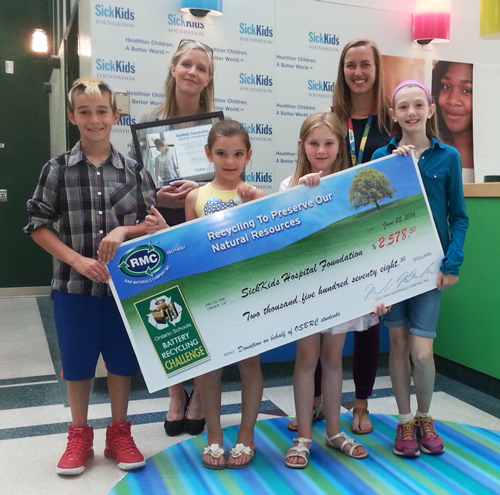 Toronto, ON – On June 22nd, a small delegation from the Ontario Schools Battery Recycling Challenge (OSBRC) paid a visit to The Hospital for Sick Children (SickKids) for a special tour and to make a donation to SickKids Foundation on behalf of all of the Challenge participants.
The OSBRC is a provincial recycling competition between elementary and secondary schools put on by Raw Materials Company of Port Colborne, Ontario. The program teaches children and their families how to properly manage batteries for recycling. The Challenge offers many free resources for educators and there is no cost for a school to participate. As a bonus, students and schools can win prizes for participating.
The program reached 70,000 students across Ontario and together they recycled more than 1 million batteries this year! A 43% increase over last year's Challenge. The provincial prize pool reached a total of $12,892 and was awarded to the winning schools with $2,578 raised for SickKids Foundation!
"We are so grateful to the Ontario Schools Battery Recycling Challenge organized by Raw Materials Company and everyone involved in this initiative for their support of SickKids. Not only are they engaging the community and students across Ontario in a creative and educational way, they are also raising critical funds for the hospital," said Constanze Bleeker, Associate for Events at SickKids Foundation.
Since 2015, schools participating in the Ontario Schools Battery Recycling Challenge have recycled more than 1.8 million used household batteries. 100% of the alkaline batteries collected are recycled and nothing is sent to the landfill. Recycling displaces the need to mine for the equivalent amount of raw materials from ore, a major cause of green house gas emissions.
"I'm very impressed with the enthusiasm and commitment the participating schools and students have shown for the environment," said James Ewles, President of Raw Materials Company. "They did a fantastic job collecting these batteries for proper recycling and keeping them out of Ontario's municipal landfills.
Elementary and secondary schools in the Province of Ontario are eligible to participate in the Challenge. Registration begins in September and the Challenge officially launches during Waste Reduction Week in October. For more information, please visit www.rawmaterials.com/ontario-school-recycling-challenge/
---
Did you know?
Used batteries make up less than 1% of all waste found in municipal landfills. That 1% of batteries is responsible for 88% of all the toxic heavy metals found in the landfill.
Find out more about our technology and how together we are turning waste into a valuable resource.