Ontario Municipalities Provide Curbside Collection for Used Household Batteries
October 1, 2019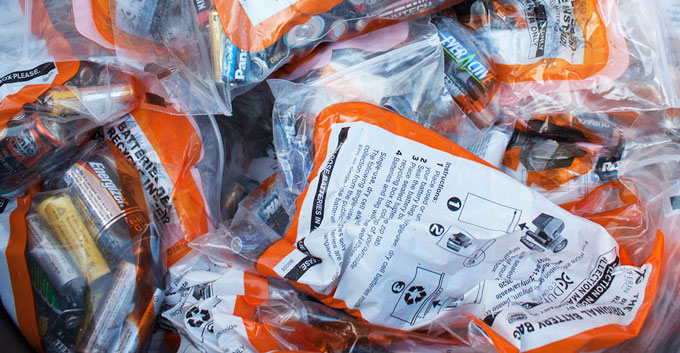 Guelph, ON – On Monday, the City of Guelph kicked off its annual curbside collection for single-use household batteries. The Royal City is one of 69 Ontario municipalities that provides this convenient collection option to help its residents recycle this common waste.
Ontario's curbside battery recycling program started in 2012 as a partnership between Raw Materials Company, the battery manufacturers and Ontario municipalities. It's grown significantly over the years and is now offered to more than 1.3 million households annually. Since 2012, Ontarians have recycled 26 million household batteries at the curb, diverting harmful chemicals and reusable materials from landfills across the Province.
"Curbside collection is an effective way for municipalities to capture this common waste that's accumulated in small quantities by almost every household," said James Ewles, President of Raw Materials Company. "Municipalities that offer a curbside collection alongside a network of public recycling points are capturing two and three times more batteries than communities that only have recycling points."
Each municipality that provides a curbside battery collection has its own unique setout requirements. The one thing that's common between all of them, is that the collection is only offered at certain times of the year. Batteries must not be setout with the recycling or garbage at any other time, and they should never be placed loose inside a recycling container or garbage bag.
Some municipalities supply collection bags to residents that include the participation instructions written on the bag, while others ask residents to reuse a sandwich style bag with a zip tab. In either case, the bags are recycled.
After each collection, the batteries are sent to Raw Materials Company in Port Colborne, Ontario where they are sorted by chemistry. The alkaline batteries are processed using the company's patented recycling technology called the RMC 3500, which was specifically developed to recycle alkaline batteries.
"The minerals extracted from the batteries using RMC's patented technology are refined and reused in the nutrient cycle," said Ewles. "This not only conserves these precious resources; it also reduces green house gas emissions by up to 80% compared to mining and refining these same minerals from ore."
The RMC 3500 has been independently audited under the CSA Group Guideline - CSA SPE-890-15. The guideline establishes a set of common definitions, performance metrics and reporting requirements to facilitate best practices for the accountable management of end-of-life (EOL) waste materials, including consumer batteries.
At the heart of the guide is a standard definition for the term recycling. It defines the ways that extracted resources must be reused for it to count toward a technology's Recycling Efficiency Rate (RER).
The RMC 3500 recycling technology for alkaline batteries achieved a recycling efficiency score of 84% and an overall diversion score of 87%. That means 84% of the resources inside each alkaline battery processed using RMC's technology, are reused in applications where the materials are given a second life.
The collection in the City of Guelph began on September 30th and will run until October 11th. For full participation instructions, a resident can visit the City of Guelph website. To see a full list of Ontario municipalities scheduled for this fall, please visit www.batteryrecycling.ca.
In 2018, Ontario residents recycled 50% of the single-use batteries they used that year.
Raw Materials Company is an industry leading battery-recycling company. Established in 1985, RMC employs more than 60 people in the community of Port Colborne, Ontario. RMC is an approved transporter and processor under the Stewardship Ontario Battery Incentive Program which is funded by the battery manufacturers.
---
Did you know?
Raw Materials Company uses a mechanical process that separates all of the components of a primary battery so they can be properly recycled. The recovered materials are used to make new products saving our earth's finite resources and the energy needed to mine them from ore.
Find out more about our technology and how together we are turning waste into a valuable resource.