Ontario's Curbside Battery Recycling Program Recycles 20,000 Kilograms in Three Weeks!
December 4, 2013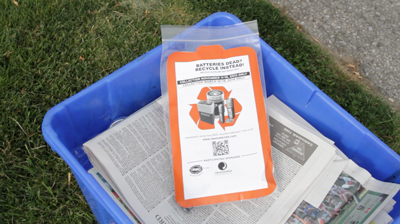 Port Colborne, ON – Over a three-week period beginning November 4th, close to 300,000 households across Ontario simultaneously cleaned out their junk drawers and recycled 20,729 kilograms of dead batteries through municipal curbside collection programs.
Because batteries are generated in small quantities by everyone, the 96% participation rate of Ontario's Blue Box program provides an ideal platform on which to piggyback the collection of rechargeable and single-use consumer batteries.
Leading up to November 4th, residents in participating municipalities were sent clearly marked battery-recycling bags in which they put all of their used household batteries. Residents put their bag of batteries out with their blue box for collection and proper recycling just after the change to daylight savings time when they would typically replace the batteries in their smoke detectors.
Several Ontario communities offered the battery collection as an extension to their curbside Blue Box program including the Region of Durham, Centre & South Hastings County, Prince Edward County, Dufferin County and the City of Peterborough.
Once collected at the curbside, the batteries were picked up and recycled by Raw Materials Company Inc. (RMC) in Port Colborne, Ontario.
"The response from our residents has been fantastic, we're basically doubling down on diversion. We continue to collect as many batteries in these two one-week curbside collections as we do all year at our Hazardous Waste depots" says Craig Bartlett, Manager of Waste Operations for the Region of Durham. "RMC has made the process very simple by supporting us with all the necessary equipment and assisting us with any regulatory and logistical aspects of the program."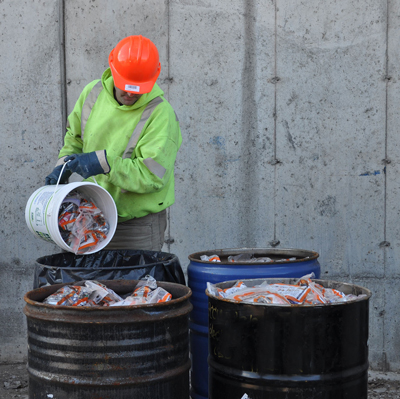 Every battery collected is recycled by RMC to the highest environmental standard achievable in North America. Virtually 100% of each single-use battery is recovered and over 86% of the materials in those batteries are upcycled – that is, they become feedstock in both biological systems as agricultural fertilizer and in industrial systems for the manufacturing of new products.
Materials like zinc, manganese, potassium and steel are recovered and upcycled rather than disposed of in a landfill or converted into smelter slag, which is commonly used as aggregate replacement in other single-use battery collection programs. RMC's recycling process sends no materials to landfill.
The program is made possible through the Stewardship Ontario Battery Incentive Program (BIP) that was created on behalf of battery manufacturers as a means to increase the collection of batteries in the province of Ontario. Through this program RMC funds municipalities to cover the costs of the curbside battery collection.
"Diverting batteries away from disposal is a joint effort requiring program financing by battery manufacturers via Stewardship Ontario, the environmental leadership of Ontario municipalities, the active participation of residents and RMC's effective battery recycling process", says Cory Graper of Raw Materials Company Inc.
Additional curbside collections are scheduled for March 2014. Any Ontario community that operates a curbside recycling program is eligible to work with RMC under the BIP.
For more information about the program, visit the Curbside Battery Recycling page or contact Cory Graper (cgraper@rawmaterials.com) at 905-658-1647.
---
Did you know?
Lead-acid batteries are the oldest rechargeable batteries still in use today. In Canada, over 98% of all Lead-acid batteries are recovered for recycling.
Find out more about our technology and how together we are turning waste into a valuable resource.