Local Retailers Help Communities Divert Batteries From Landfill
October 9, 2015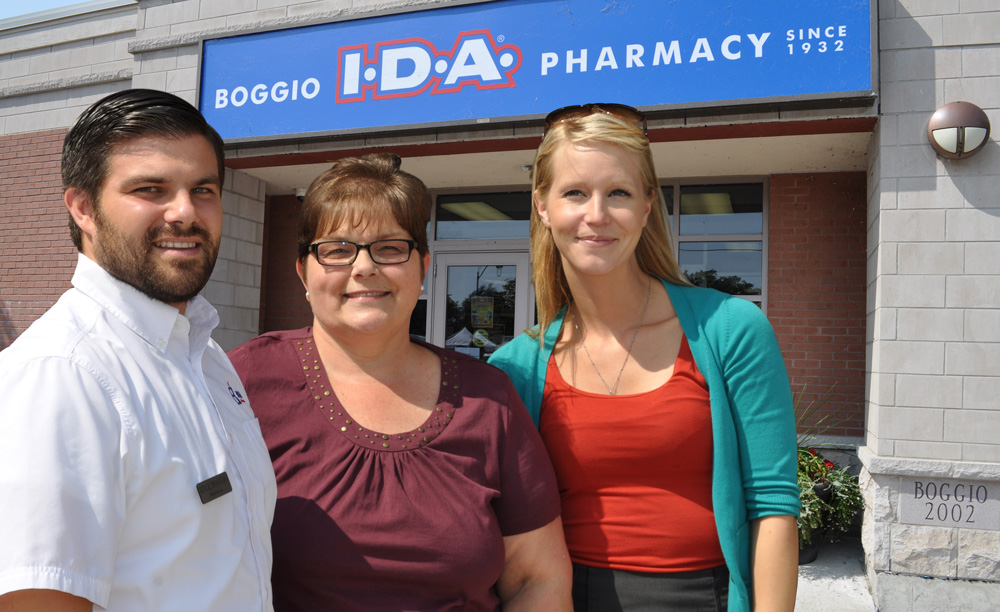 Port Colborne, ON - If you live in the Niagara region you're probably aware that household batteries should be recycled. The Region was the first in the Province to provide its communities with an annual curbside collection for single-use batteries and they host several Hazardous Waste Days throughout the year.
Rounding out these convenient recycling options, another stream of batteries trickles in all year long from local retailers that have volunteered their time to collect batteries from the public every day they're open.
Sarah Lacharity of Raw Materials Company stopped by Boggio Pharmacy in Port Colborne, a small community of 18,000, to congratulate them for recycling more than 2000-kilograms of household batteries.
"This is a very significant milestone and Boggio Pharmacy should be very proud of their achievement," said Sarah Lacharity of Raw Materials Company. "We have many dedicated retailers across Ontario that are helping communities to divert household batteries from landfill, they all deserve to be recognized for their efforts. This is a great example for what is possible under the Orange Drop program when local businesses and the community come together to collect and recycle batteries."
The Boggio Family of Pharmacies are four of a handful of retailers in the Niagara region that are providing this value added recycling service to its customers free of charge.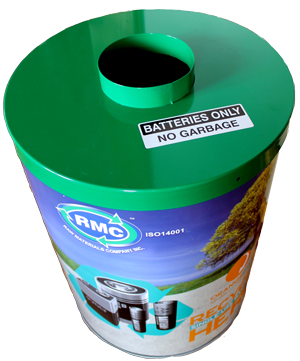 "We had already been recycling expired medications and sharps at our four pharmacies throughout the Niagara region," said Sharon Riddell, Operations Manager at Boggio Pharmacy in Port Colborne. "We wanted to provide our customers with a convenient way to recycle the batteries they were purchasing at our stores and we figured the easier it was, the more likely people would participate."
Boggio Pharmacy in Port Colborne became a public recycling point for single-use batteries in July 2011. Since then, the Port Colborne pharmacy has helped the community recycle 2,055 kg of batteries, diverting harmful chemicals and reusable materials from the local landfill.
"We know from experience that recycling programs must be convenient for the user in order to be successful. Like many Ontario municipalities, Niagara Region is fortunate to have local retailers providing residents with alternative avenues to conveniently recycle items. Locations, such as Boggio, compliment Niagara's various, existing diversion programs. Boggio should be applauded for their commitment to their customers and our local environment," said Alan Caslin, Niagara Regional Chair.
"We're always looking for ways to improve our customers' experience at each of our locations," added Kyle Boggio, Pharmacist at Boggio Pharmacy.
To learn how to store batteries in your home and how to prepare them for recycling, please visit www.rawmaterials.com/page/education/prepare-batteries/.
To search for a battery recycling point near you, please click here.
---
Did you know?
Zinc is one of the world's most commonly used metals. Approximately 30% of the zinc today comes from recycled sources. Raw Materials Company is able to recover zinc from the batteries that you recycle. The zinc we recover is then reused as micronutrients in fertilizer to grow corn for biofuel.
As a result of RMC's recycled materials, farmers are able to increase their yields by over 20 bushels per acre. This is important considering our growing population and the need to make efficient use of our existing farmland.
Find out more about our technology and how together we are turning waste into a valuable resource.