Local Companies Work with City to Grow Fresh Produce for the Food Bank!
September 6, 2016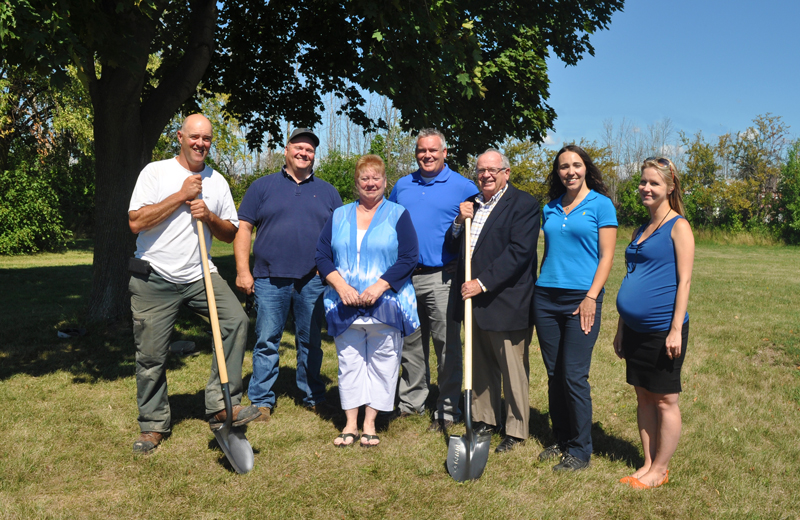 From left to right: Mike Audit, Mike Graybeil, Councillor Angie Desmarais, Scott Luey, Mayor John Maloney, Amanda Upper and Sarah Lacharity.
Port Colborne, ON – Two local companies have joined forces with the City of Port Colborne and Port Cares to build and manage a community garden at Lockview Park with the fresh produce going to the Port Cares Reach Out Food Centre.
On September 15th beginning at 5 p.m. (until 7 p.m.) there will be ground breaking ceremony at the new garden in Lockview Park and everyone is invited to come out and enjoy a barbecue. Tender Cuts will be onsite holding down the grill and non-perishable food donations to the Reach Out Food Centre will be accepted. Lockview Park is located between Chestnut Park and Lakeshore Catholic High School.
The space for the community garden was provided by the City of Port Colborne and together with staff from Marine Recycling Corporation and Raw Materials Company, a team has been working diligently to put the final touches on eight newly constructed garden boxes and a custom made sign.
The garden will be ready for its first growing season early this spring, and the group hopes that this barbecue will drum up some much needed support from local businesses and volunteers in the community.
"Right now we have the resources and volunteers to manage eight garden boxes, but with some additional corporate funds and community volunteers, we could have 30 before the end of the first season," said Jordan Elliott of Marine Recycling Company. "There are a few plots available to the community, interested families, businesses or organizations can find applications at the BBQ."
The Reach Out Food Centre typically supports 600 people every month, a third of which are children under the age of 18.
"Even when we experience seasonal declines in food bank activity, we're still serving at least 500 people each month," said Amanda Upper, Site Supervisor at Port Cares Reach Out Food Centre. "Fresh foods like produce are vital to a healthy diet and it's especially difficult for families on fixed incomes to incorporate enough of it into their diet due to the costs of such foods."
The food bank goes through approximately 15,000 pounds of food each month, including 1,000 pounds of produce which is donated to the food bank by local grocers, farmers, individual donors and existing community garden plots like the one at Lockview Park.
"The fruit and vegetables grown in this garden will directly benefit residents in our community who rely on the Port Cares Reach Out Food Centre," said Mayor John Maloney. "I want to thank everyone at Marine Recycling Corporation and Raw Materials Company for stepping up to undertake this project."
"Marine Recycling Corporation, Raw Materials Company and the City of Port Colborne are to be commended for their community leadership and investment. By working together, we are able to better utilize resources, provide wholesome and affordable food and provide people who would otherwise not have the opportunity with valuable skills and personal development," said Christine Clark Lafleur, Executive Director, Port Cares.
The Port Cares Reach Out Centre food bank serves the communities of Port Colborne and Wainfleet and is open Monday, Wednesday and Thursday from 12:30 p.m. until 3:30 p.m. at 61 Nickel Street in Port Colborne.
If anyone from the community wants to help maintain the gardens next spring, please contact Sarah Lacharity at (905) 835-1203 or slacharity@rawmaterials.com
---
Did you know?
Raw Materials Company uses a mechanical process that separates all of the components of a primary battery so they can be properly recycled. The recovered materials are used to make new products saving our earth's finite resources and the energy needed to mine them from ore.
Find out more about our technology and how together we are turning waste into a valuable resource.