Durham Region & RMC Receive the SWANA Gold Award
September 20, 2013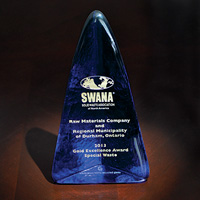 The Regional Municipality of Durham and Raw Materials Company have been awarded the Solid Waste Association of North America (SWANA) Gold Award for Special Waste Management.
During the week of November 12th 2012, Raw Materials Company of Port Colborne, Ontario teamed up with Stewardship Ontario and the Regional Municipality of Durham to break the Guinness World Record for most batteries collected in a 24-hour period.
The Region collected a total of 58,778 pounds of used alkaline batteries in five days of curbside collection with the record being set on Thursday November 15th when Durham residents dug deep and recycled 11, 221 pounds.
"This program was made possible through the Stewardship Ontario Curbside Battery Recycling Incentive (CBRI) which provides collectors with a financial incentive to collect this harmful waste for proper recycling," explained Cory Graper of Raw Materials Company.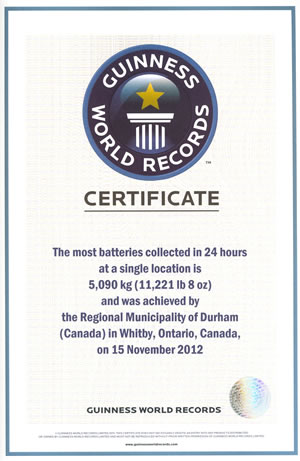 The SWANA Excellence Awards Program recognizes outstanding solid waste programs and facilities that advance the practice of environmentally and economically sound solid waste management through their commitment to utilizing effective technologies and processes in system design and operations, advancing worker and community health and safety, and implementing successful public education and outreach programs.
The Gold Award for Special Waste Management was officially announced at SWANA's 51st Annual WASTECON in Long Beach, California on September 17th during the three-day conference.
"We are grateful for this international recognition," said Cory Graper of Raw Materials Company. "Together with our municipal and public service partners we have demonstrated that incentivized programs like the Stewardship Ontario CBRI can be an effective motivator and necessary to drive innovation in collections that can make battery recycling as convenient as setting out the trash."
The Batteries Dead, Recycle Instead program for collecting batteries has helped Ontario reach a 20% collection rate in less than three years, becoming one of the fastest growing battery collection programs in the world to date.
Raw Materials Company is a specialty processor for single-use alkaline batteries. The RMC 3500 mechanical process was designed specifically to recycle alkaline batteries and is capable of recovering 100% of an alkaline battery with no component materials going into the landfill.
Learn more about Raw Materials Company and the RMC Technology.
---
Did you know?
Used batteries make up less than 1% of all waste found in municipal landfills. That 1% of batteries is responsible for 88% of all the toxic heavy metals found in the landfill.
Find out more about our technology and how together we are turning waste into a valuable resource.