Ontario's Curbside Battery Program is Back!
March 7, 2014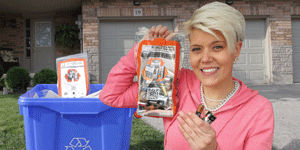 Port Colborne, ON – More than 500,000 homes across Ontario will have an opportunity to recycle used household batteries at the curb during the months of March and April. The Curbside Battery Recycling Program is made possible through Stewardship Ontario's Curbside Battery Recovery Incentive (CBRI), a program funded by the battery manufacturers that gives people a convenient option to recycle this hard to manage waste.
The curbside battery recycling program began in 2012 and is offered bi-annually around daylight savings time when homeowners are reminded to change the batteries in their smoke alarms. The timing of the program is not only for convenience, but acts as a great reminder for people to think about fire safety, their batteries and the best ways to manage them.
This spring, curbside battery collections will be provided in the Region's of Niagara, Durham and Quinte as well as Dufferin County, the Cities of Peterborough, Orillia and Thunder Bay. Residents of these communities are encouraged to visit their municipal website for specific program information including any setout instructions and collection dates.
"Curbside collection is the most convenient method for people to recycle their used batteries. Using this method of collection, we are increasing participation and collection rates which is greatly reducing the amount of batteries entering our community landfills." explains Cory Graper of Raw Materials Company. Last year alone, the curbside battery program recycled 80,000 lbs of used household batteries, diverting harmful materials from local landfills and giving them a second chance at life.
Raw Materials Company has patented a unique process that is capable of recovering 100% of each alkaline battery recycled with no materials going to landfill. Up to 92% of each battery is upcycled, which means that the materials are used to displace the use of equivalent virgin materials in the manufacture of new products. The zinc, manganese and potassium are reused as a micronutrient additive in commercial fertilizers and the steel is reused in the manufacture of automobiles and appliances. All of the recovered materials are sold back into the marketplace within 300 miles of RMC's Port Colborne, ON facility.
For those people living in communities that are not participating in the curbside collection, there are more than 3300 recycling locations for used batteries at municipal facilities and retailers across the province. Larger battery types such as a lead acid battery must be taken to a Municipal Hazardous & Special Waste Depot.
Most alkaline batteries that we use everyday do not require any special preparation before storage or recycling. However, lithium type batteries including all button cells and any 9 & 6 volt batteries must have their terminals taped to reduce any risk of short circuit. For more information on preparing your batteries for recycling, please visit www.rawmaterials.com/page/education/prepare-batteries/.
---
Did you know?
Raw Materials Company uses a mechanical process that separates all of the components of a primary battery so they can be properly recycled. The recovered materials are used to make new products saving our earth's finite resources and the energy needed to mine them from ore.
Find out more about our technology and how together we are turning waste into a valuable resource.