Recycle your Batteries & Support the Sault Ste. Marie Salvation Army!
June 6, 2014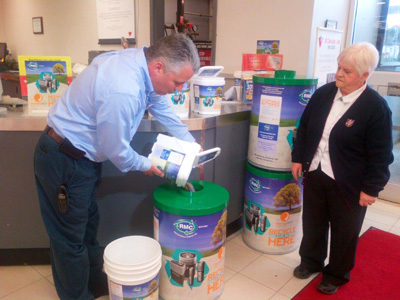 Sault Ste. Marie, ON – There's a new fundraising drive happening in the Sault and it won't cost anything for the community to participate, except for those dead household batteries we've all been storing for years.
Mildred Brodie of the Sault Ste. Marie Salvation Army Food Bank worked with Darrin Gatto, a contractor for Raw Materials Company (RMC) and Todd Black from the Sault Canadian Tire store to setup a public recycling program for used household batteries.
The best part of this new program is that for every pound of single-use batteries the community recycles at the Canadian Tire store on McNabb Street, a monetary donation will be made by RMC and DG Contracting on behalf of local residents to support the Salvation Army Food Bank.
The Sault Ste. Marie Salvation Army Food Bank offers emergency, non-perishable food items to individuals and families in need.
"Some of our most successful collection points recycle batteries in support of local charities," said James Ewles, President of Raw Materials Company. RMC collects and recycles the batteries at their Port Colborne, Ontario facility upcycling the battery components including zinc, manganese, iron and potassium for reuse in new products. This reduces the need to mine these materials from ore, and greatly reduces the production of green house gasses, a major contributor to global warming.
Anyone living in the community can recycle their household batteries conveniently for free during normal operating hours at the Canadian Tire.
Recycling batteries in Ontario hasn't always been convenient. In 2009, very few public facing collection sites existed in the province resulting in stagnant recycling rates of less than 5%. Today, Raw Materials Company, its dedicated collection network of more than 3500 sites and Stewardship Ontario's Battery Incentive Program have helped increase recycling rates to approximately 20% of all the available primary batteries sold in Ontario last year.
Batteries should not be thrown into the garbage. In Ontario, all battery types are designated as either hazardous or special waste requiring proper end of life management.
During the same visit, RMC also setup public facing recycling points for household batteries at the Shaw Communications building, Battery Experts and at the Home Hardware stores in the Sault, Bruce Mines and Echo Bay areas.
The batteries recycled from all of these locations will be processed using the most environmentally sustainable technology available in the world. Battery components are mechanically crushed and separated into various metals, minerals, plastic and paper. 100% of the materials are reused and more than 86% of the battery components are upcycled. None of the battery materials enter the landfill and all recovered products are reused by industry within a few hundred miles of the RMC facility. Proper recovery and reuse of these materials reduces energy consumption and greenhouse gas emissions by more than 80% compared to mining and refining these materials from ore.
To learn more about how batteries are recycled, or to find the recycling point nearest you, visit www.rawmaterials.com
Learn more about RMC's fundraising options for Ontario based non-profit organizations.
---
Did you know?
Zinc is one of the world's most commonly used metals. Approximately 30% of the zinc today comes from recycled sources. Raw Materials Company is able to recover zinc from the batteries that you recycle. The zinc we recover is then reused as micronutrients in fertilizer to grow corn for biofuel.
As a result of RMC's recycled materials, farmers are able to increase their yields by over 20 bushels per acre. This is important considering our growing population and the need to make efficient use of our existing farmland.
Find out more about our technology and how together we are turning waste into a valuable resource.