Community Garden Grows 853 Kilograms of Produce for Port Cares Food Bank!
November 15, 2017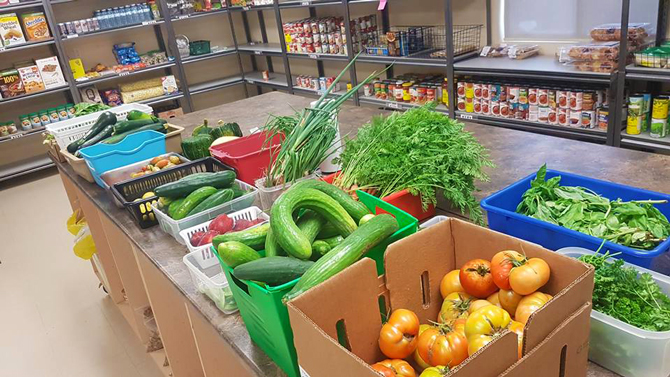 Port Colborne, ON – The Lockview Park Community garden wrapped up its first growing season bringing in a bounty of 853 kilograms of fresh, healthy produce to the Port Cares Food Bank.
11 raised garden beds were built and cared for this season; eight large beds and three smaller beds for expanding plants. The plots were maintained by a team of compassionate volunteers, the City, local companies and youngsters from the Blooming Gardeners program that came out twice a week to learn how to grow their own food.
"We want to thank all the volunteers and families that came out to water the garden and pick vegetables this season," said Sarah Lacharity of Raw Materials Company. "It was wonderful feeling to see the community come together to grow vegetables for our local food bank."
The Reach Out Food Centre supports 600 people every month, a third of which are children under the age of 18. The food bank goes through approximately 6,750 kg of food per month, including 450 kg of produce. The produce is donated to the food bank by local grocers, farmers, individual donors and community garden plots like the one at Lockview Park.
"The volunteers, families, corporate sponsors and the City should all be proud of their efforts in the community garden, as the fruits of this labour help provide much needed nutrition to our supported individuals and families at the Port Cares Reach Out Food Centre," said Amanda Upper, Site Supervisor at Port Cares Reach Out Food Centre. "As you can imagine, fresh produce is sometimes hard to come by for a food bank stocked with predominantly non-perishable goods so supplies like fresh produce are like gold to us, and especially valuable for supplementing community meals. This initiative is about more than a nutritious food source – it is symbolic of the impact a group of individuals who care enough can have when they are willing to roll up their sleeves and lend a hand to help support their neighbours."
The garden is sponsored by the City of Port Colborne, Tender Cuts, Raw Materials Company, Marine Recycling Corporation and Iron Earth Canada. Before the first seedlings were planted, Iron Earth Canada donated enough organic soil re-mineralizer to fill all 11 plots. The all-natural soil conditioner rejuvenates mineral deficient soil, giving vegetables a healthy boost of minerals and essential nutrients. Iron Earth is a completely natural soil re-mineralizer and contains no synthetic chemicals, more information is available at ironearthcanada.com.
"We started picking vegetables in July and we continued picking until late October," said Lacharity. "The plants produced an enormous amount of vegetables and I really did taste a difference between the veggies we grew at the garden and the produce I buy at the grocery store."
Organizers plan to expand the garden with additional plots next season. Anyone from the community that wants to maintain a plot or volunteer to help can contact Sarah Lacharity by email at slacharity@rawmaterials.com.
The Port Cares Reach out Centre serves the communities of Port Colborne and Wainfleet and is open Monday, Wednesday and Thursday from 12:30 - 3:30 p.m. at 61 Nickel Street in Port Colborne. The office is also open Monday to Thursday from 9:00 a.m. until 4:00 p.m. to receive donations.
---
Did you know?
Raw Materials Company uses a mechanical process that separates all of the components of a primary battery so they can be properly recycled. The recovered materials are used to make new products saving our earth's finite resources and the energy needed to mine them from ore.
Find out more about our technology and how together we are turning waste into a valuable resource.