Raw Materials Company Has a Record-Setting Week for Battery Recycling in Ontario
December 8, 2014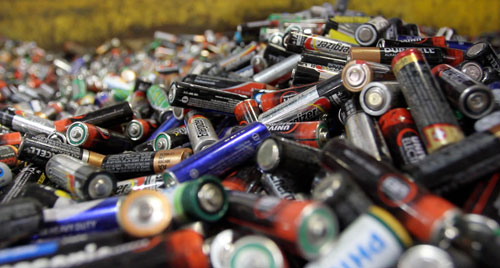 Port Colborne, ON - Raw Materials Company (RMC) established a new record for the most household batteries collected for recycling in one week in Ontario. During the five days from November 17th to November 21st a record 97,069 kilograms (214,037 pounds) of household batteries were collected for recycling at RMC.
"This industry milestone in battery recycling was accomplished in part through the province wide network of collection locations at municipalities, retail stores and not-for-profit locations that makes it easy for any resident of Ontario to recycle their household batteries," explained James Ewles, President of Raw Materials Company. "The other piece was a very successful municipal curbside battery collection program at about half a million homes in the month of November."
More than 80% of the batteries received during the record week were household alkaline batteries that are recycled at RMC's ISO 14001 certified battery recycling facility in Port Colborne, Ontario.
"RMC uses a patented recycling technology that achieves the highest recycling efficiency rate for alkaline batteries in North America. The other battery types are sorted and sent to battery recyclers that specialize in recycling as much material as possible from those specific battery chemistries," said Ewles, who was recently recognized as one of Canada's 2015 Clean50 leaders in sustainability and clean capitalism.
Ontario's recycling program for single-use household batteries is administered by Stewardship Ontario with a convenient collection network of more than 4000 recycling sites across the province. The Province also has an innovative municipal curbside battery recycling program that holds the Guinness World Record for most batteries collected for recycling in a 24-hour period. The Ontario program requires at least 80% of a battery's contents to be recycled as reusable commodities. With the RMC patented mechanical separation technology 100% of each battery is recovered and reused, 92% is upcycled into steel and biological nutrients used to increase crop yields, nothing is disposed of in a landfill and greenhouse gas emissions are minimal.
About Raw Materials Company:
Raw Materials Company is the industry leading battery recycling company whose process achieves the highest recovery and recycling rate in North America. RMC was established in 1985 and employs 50 people in the community of Port Colborne, Ontario. RMC is an approved transporter and processor under the Stewardship Ontario Battery Incentive Program.
---
Did you know?
Lead-acid batteries are the oldest rechargeable batteries still in use today. In Canada, over 98% of all Lead-acid batteries are recovered for recycling.
Find out more about our technology and how together we are turning waste into a valuable resource.