Lockview Park Community Garden Kicks Off Second Season with Planting Party!
May 15, 2018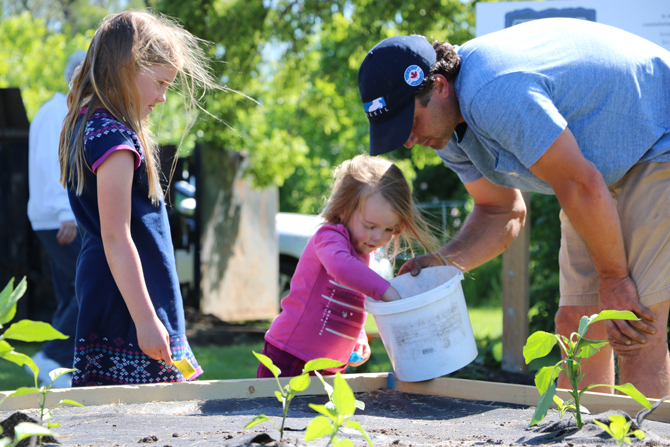 Port Colborne, ON - On Sunday May 27 beginning at 3:00 p.m. friends of the Lockview Park Community Garden will gather at the garden located between Lakeshore Catholic High School and Chestnut Park for a season opening planting party. A free barbecue sponsored by Tender Cuts will start at 4:00 p.m. Non-perishable food donations to the Port Cares Food Bank will be accepted.
The Lockview Park Community Garden is a community effort to support the local food bank. Last year, more than 853 kilograms of fresh produce was grown in eleven raised beds at the site. The produce was donated to the Port Cares Reach Out Centre, which typically distributes 6,750 kilograms of food to families living in Port Colborne and Wainfleet each month. Approximately 450 kilograms of that food is fresh produce.
"Thank you to everyone involved in the second season of the Lockview Park Community Garden," said Christine Clark Lafleur, Executive Director at Port Cares. "The nutritious and fresh 853 kilograms of produce that were donated through the gardens last year helped to feed the 1,200 individuals that rely on the food bank each month. We are very grateful to be able to offer fresh produce in the food bank and we look forward to another great growing season."
The garden at Lockview Park is maintained by a group of community volunteers and local businesses.
"We were so pleased with all of the support the garden received from the community last season," said Jordan Elliott, President of Marine Recycling Corporation and one of the garden organizers. "All the volunteers that came out did a wonderful job for an important organization, and we're excited to work alongside them again this year."
There has been a growing interest from the community and organizations willing to lend a hand. Margret Tanaszi, President and Master Gardener at the Port Colborne Horticultural Society will be on hand to offer gardening tips and advice to attendees. The Port Colborne Public Library will also be setup to offer party goers free seeds, the opportunity to sign out gardening books and a chance to learn a gardening craft.
"We recently started a seed library in partnership with the Healthy Kids Community Challenge Niagara," said Rachel Tkachuk, Librarian at the Port Colborne Public Library. "People will be able to checkout free seeds from us and return new seeds at end of the growing season."
Parents can also sign their children up for the Blooming Gardeners Program, which is also part of Healthy Kids Community Challenge Niagara. The group will meet every Tuesday and Thursday at the Lockview Park Community Garden from June 20 until August 24, 2018. Children will learn how to care for plants, environmental stewardship and sustainable food systems.
Algoma Ship Repair has joined the ranks as the latest corporate sponsor. The company has offered to supply water to the garden from its facility located beside the park. The list of corporate sponsors includes, the City of Port Colborne, Tender Cuts, Raw Materials Company, Marine Recycling Corporation and Iron Earth Canada.
Anyone that wants to volunteer to help with the garden or anyone that is interested in a plot can speak to Sarah Lacharity at Iron Earth Canada. The company will be there handing out samples of its soil re-mineralizer that is being used in the garden again this year. The all-natural soil conditioner rejuvenates mineral deficient soil, giving vegetables a healthy boost of minerals and essential nutrients.
The Port Cares Reach Out Centre serves the communities of Port Colborne and Wainfleet and is open Monday, Wednesday and Thursday from 12:30 – 3:30 p.m. at 61 Nickel Street in Port Colborne. The office is also open Monday to Thursday from 9:00 a.m. until 4:00 p.m. to receive donations.
---
Did you know?
Zinc is one of the world's most commonly used metals. Approximately 30% of the zinc today comes from recycled sources. Raw Materials Company is able to recover zinc from the batteries that you recycle. The zinc we recover is then reused as micronutrients in fertilizer to grow corn for biofuel.
As a result of RMC's recycled materials, farmers are able to increase their yields by over 20 bushels per acre. This is important considering our growing population and the need to make efficient use of our existing farmland.
Find out more about our technology and how together we are turning waste into a valuable resource.