Recycle your Batteries in Support of Clothes for Kids
December 13, 2013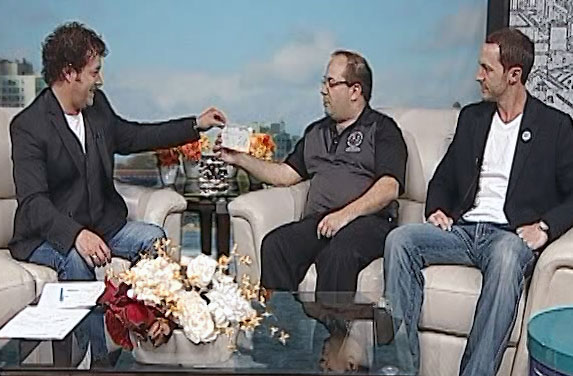 Kingston, ON - Cory Graper of Raw Materials Company and Ben Santucci of Westchester Logistics delivered a second cheque for $1,800 in support of Corus Entertainment's Clothes for Kids Campaign. The donation was made on behalf of environmentally conscious Kingstonians at the CKWS TV office in Kingston on December 12th, 2013.

The proceeds come from 7200 lbs. of used household batteries that have been recycled at the three local Canadian Tire stores in Kingston since May. Year to date the program has raised over $3400.00 for the Clothes for Kids charity. 100% of the proceeds are used to purchase warm winter clothes for children in need throughout the Kingston area.

The Clothes for Kids battery-recycling program is a collaborative effort between Corus Entertainment, Canadian Tire, Westchester Logistics and Raw Materials Company; an Ontario based recycling company that is able to upcycle over 86% of the battery contents for reuse in new products and generates no landfill waste.

The recycling program is a great way for people to support two worthwhile causes at once without ever having to open up their wallets. "People can clean out their junk drawers, recycle their batteries and support this local charity in need. It's a great cause and there's no cost to participate," said Cory Graper.

"This initiative is a win/win for all concerned. We're able to save literally tons of single-use batteries from ending up in our landfill sites, and at the same time help provide clothes for kids this winter," explained Grant Barber of Corus Entertainment.

Corus Entertainment's Clothes for Kids battery program has recycled more than 16,000 lbs of used household batteries since its inception in November of 2012.

The battery-recycling program is ongoing, so anyone planning a trip to the local Canadian Tire stores over the holidays should bring along their dead batteries and recycle them for this great cause.

You can also support the Clothes for Kids campaign as an individual, group or as an organization by purchasing a new snowsuit or by making a monetary donation that will be used to purchase one. If you would like to make a donation, contact Kristin Moore at Corus Entertainment by email (Kristin.Moore@corusent.com).
---
Did you know?
Lead-acid batteries are the oldest rechargeable batteries still in use today. In Canada, over 98% of all Lead-acid batteries are recovered for recycling.
Find out more about our technology and how together we are turning waste into a valuable resource.